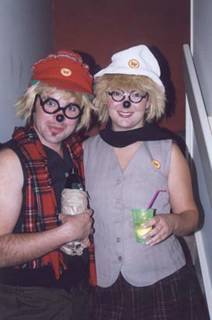 Today's random photo from my hard drive:
Some Aussie friends dressed as Wombles at a party. Crazy Aussies. (Wombles of Wimbledon are characters from children's books by Elisabeth Beresford. I had to Google it.)
That's Ben on the left and Toni-lee on the right. I've known Toni-lee for -- wow -- more than 12 years. We met through work in Melbourne, this rather dodgy company called ESA (Educational Systems Australia or some such generic name) that sold encyclopedias and children's books. At the time, we lived together in the funky neighbourhood of St. Kilda with some other young people, but we were "supervised"... she left first, and I left soon after... we still talk about those days and how cult-like the company was! Think brainwashing, think lots and lots of brainwashing! Ah, stories for another day, when I've got more time.