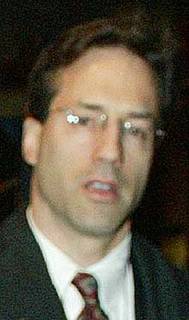 For those of my friends who are familiar with who "the doctor" is because I've mentioned him before, here is the verdict as of Friday, November 21, 2003:
New York Newsday.com: Cardiologist acquitted on charges of sexually molesting patient
**I don't want to post his name because if I did, anyone who does a Google search on his name will bring up this page.**
But it's all over the articles (many of them are pretty trashy, due to the nature of the case, especially the New York Post). Here are more:
New York Daily News: Doc cleared in lesbian grope case
New York Daily News: Teased grope doc? No way, she's gay
New York Post: 'Dirty Doc' Slam
New York Post: 'Breast-kissing' Doc Acquitted
New York Blade: Gay gal foils accused groper's claims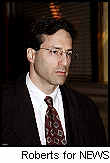 Upon seeing the photos, I am amazed. He's 48 years old and looks exactly the same, even after nearly 13 years. He's like a walking advertisement for what heli-skiing, squash, and the gym will do for you. [
Eliza, I told you he looked like Matt Lauer...
]
How do I feel about the case? Somewhat conflicted. Did I think he was guilty?
I thought something might have happened, but I didn't think he would be so foolish as to:
1) not have a nurse present during the examination
2) do anything that would jeopardize his vocation
I've been following this case since the spring, when I stumbled upon the
news of the arrest in February at the website of the District Attorney's Office - Manhattan
. What a shocker!! I even phoned the DA's office to find out the verdict, but it kept getting postponed. First it was July, then on and on. I kept checking the DA's website. According to the news reports on the case months ago, he was found not guilty of forcible touching, a misdemeanor. He faced up to a year in jail if he had been convicted, but he was charged on three counts in total. What he did admit to was "inappropriate behaviour," saying that she initiated the activity and it was consensual, but he denied most of her allegations (lurid details in the articles). Apparently, a month after the incident on Jan 6, she was wire tapped by the police and went to meet him at the Harvard Club on Feb 6. There they had a conversation that was secretly recorded and they discussed what took place. The jury rejected the claim by the woman after three days of deliberation and the doctor was acquitted.
In
one article
, it says,
"The jury apparently did not find the patient's testimony credible. Members of the panel did not know [he] was convicted of harassment after a similar incident with a nurse in 1997."
It also mentions in the articles that the jury was given information by the defense attorney that the woman was litigious, having filed 6 lawsuits in 10 years, four of them auto-related. However, the jury was not informed about the doctor's court history. Why didn't the prosecuting attorney bring this to the table? Did he not think the defense attorney would bring up her court records? Makes you wonder.
In the
New York Daily News
:
"The woman said she believed it was unfair that the jury had heard about her lawsuits, four of which involved auto accidents, but did not learn that [he] had pleaded guilty in 1997 to harassment after he grabbed a nurse in an elevator at Weill Cornell Medical Center and started kissing and fondling her."
I think this last piece of news might've made the jury think further about the credibility of the defendant as well as the claimant, but then again, maybe not, I don't know. The doctor was more than foolish for trying something with a patient, but to try something that might land him in court for a
second
time (and he pleaded guilty to the charge with the nurse!) and put everything at risk is unbelievable. He's just asking to get thrown in jail.
I've been tempted to phone him since the spring to ask him point-blank about the details of the case, but decided against it. I figured I would wait for a verdict. Just before I went to New York for New Year's, only days before this incident took place, I mentioned to a friend that I was considering calling up the doctor, but my friend strongly advised against it. He said,
"Take it from me, because I'm a guy. If you have no intention of actually meeting with him, then don't call."
I didn't, as I could see his point. I almost met up with him (the doctor) when I was in NYC exactly three years ago. I was walking through Central Park one night shortly after American Thanksgiving, and suddenly his name popped into my head. I'd been in touch with him on and off for probably four years, so the name was not difficult to remember, but I hadn't spoken to him since settling in Vancouver, and I hadn't seen him since 1991. There are 12 million people in Manhattan (and Jewish doctors are a dime a dozen, aren't they?), but I was feeling bold and phoned directory assistance... I was able to get the number of his private practice and left a message. I was somewhat surprised he'd remember me after all this time, but I must've made an impression as he phoned me back. After some catch-up conversation, we'd tentatively arranged to meet. I was short on time, so in the end I told him I couldn't. But we exchanged phone numbers, and he suggested I take a train and meet him during a ski-trip to Golden (near the BC/Alberta border) in February. I haven't spoken to him since.
Anyway, now that the verdict is in, I'm tempted again to phone him, but the inclination hasn't been strong enough to do it yet. We shall see. I wouldn't expect him to talk in detail about the case, but at the same time I am very interested to know what really happened.