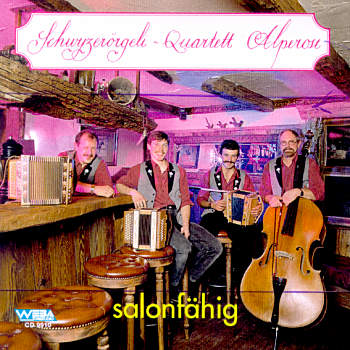 Swiss folk music is pretty high-spirited... last night Christa downloaded some from Kazaa Lite, so my music folder is a bit of a mixed bag today. I've got AC/DC's "Hells Bells" followed by acid jazz, Eric Clapton next to Moloko...
Back to Swiss music. One of the songs is called "Alperose" or "Alpine Flower." In fact, you can certainly tell when you're in Switzerland, because everything is alpe-something. It's the Swiss prefix!
Alpe
flower,
alpe
bitter chocolate, you get the idea... (I can't be bothered to go over to the fridge to check out the wrapper on the Swiss chocolate for the Swiss-German spelling.) Well, this
alpe
-music, or folk-music, is lively, and not just the
oom-pah-pah
polka stuff you expect from the German-speaking regions of Europe, although yes, there's some of that too.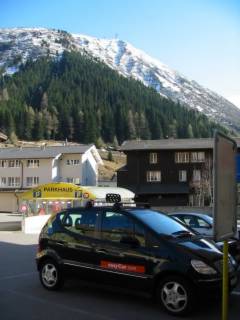 Last year as I was bombing around Switzerland in my rather conspicuous rental car with the bright orange
easyCar.com
logo (see left), I was constantly switching between stations to hear the different music styles between the German, French, and Italian-speaking regions. This year, I spent most of the time in the German-speaking area in the east, so except for passing through the Italian canton of Ticino after our camping stint in Northern Italy to drive to St. Gallen (where Christa is from), there wasn't as much station-switching. We had to listen to Christa's music all the way!
How much of CCR can I take!?!!
I shot some video in the car one night driving from Lecco to Bergamo when Iris was
protesting very loudly
about how painful Swiss music was to her ears -- she made a dive for the console, trying to eject the CD out of the player and almost made Christa go off the road! I'd share that video with you, except she'd probably kill me... she's howling like a wolf!
One thing I should mention about these Mercedes A-class cars -- they are pretty spacious, but they have all kinds of crappy blind spots and a terrible turning circle!